Hi all

Have two issues which could be interesting for all PolicyPak users:
1. Adobe Reader XI starts slower when using PP for AR XI. Without its more or less instantly open after klicking the icon. If you link a GPO with the Pak for AR and set just one setting (no matter which one) it takes between 4 and 7 secondes to open AR. How comes?
2. If I want to set the option "Automatically install updates" in Firefox (12x ESR and 17.0.2 ESR) it won't work. The only thing that will be set is "Check for updates, but let me choose....". Could there be a bug in the Pak?

I'm using Build 511 CSE, Paks and Console, Server 2008 R2 and Win7 x64 SP1 Enterprise Clients.

Any ideas?

Regards

Noah
Noah.. We have since released build 537, which addresses item #1. If you still require 511, there is a workaround... But the advice it fully update your CSE and also your paks to 537.
If you're a customer you should have received an update with a download link.
If you're in trial mode and don't have 537, contact
sales@policypak.com
and request it. Be sure to specify your name and company so they can help you.
As for problem 2.. Can you take a screenshot of which setting isn't apparently working in the Firefox Pak? Then we can look into it. Thanks.
Hi Jeremy
Thanks for the fast response!
OK, then I'll upgrade to 537 soon. I got the link and already downloaded all stuff.
For the FF-Problem: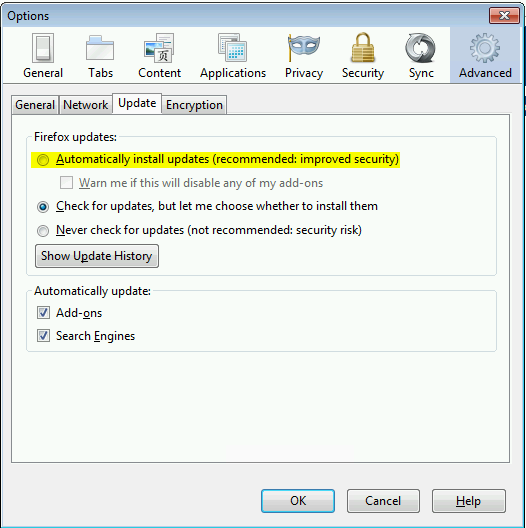 It keeps setting this one, even if I set the Radiobutton to the "Automatically install...." in the FF-Pak. No Idea why.
We just uploaded an updated Pak which now configures the Update tab for Firefox.

Brad Rudisail, MCSE, MCITP
PolicyPak Software

Admin




Posts

: 6


Join date

: 2013-01-29



It's almost ready. Please standby folks.
There are also some more Paks in this download. You know you have the right download when you see D here:
http://screencast.com/t/w7IlpBqwivf
The link you have in your trial / customer download should get you right over to this version.
Let me know here when you get it / test it, and it "passes" your tests. I'll leave the thread open until then.
Thanks.
Nice job, it seems to be ok now. Consider it solved. Thanks a lot!
One funny thing: I think someone forgot a "Temp-Tab" in this new FF pak

We'll get that fixed. For now, you can just right-click it in the DesignStudio and delete it. We'll fix it going forward.

Thanks.. !
Sorry to say, but still having the slow AR startup (4-7 secondes) after upgrading to Build 537 (CSE, Console and Pak)...
Most people have reported this issue closed with 537.

Noah, please email support at policypak.com.

We have a tech doc with instructions for enhanced logging we'd like you to please perform.

Thanks in advance.

I'll close out this thread since we'll be working directly. Thanks.

---
Permissions in this forum:
You
cannot
reply to topics in this forum